Andreas Kalcker, is a German healer, biophysical researcher and author. He lived for many years in Spain and has recently moved to Switzerland.
Kalcker has become one of the most controversial men on the web right now for touting Chlorine Dioxide – CDS (also called MMS – The Miracle Mineral Solution) as a curative and prophylactic treatment for Covid-19.
He claimed that there is a solution to end the pandemic, and that is now scientifically proven: the solution to the virus is chlorine dioxide, or CDS, a product derived from sodium chlorite.
Andreas Kalcker | Official Website
First Scientific Study on Humans with Chloride Dioxide for Therapeutic Use
As health researcher, he is prominent member of COMUSAV "Coalición Mundial Salud y Vida" (Global Health and Life Coalition) which promotes the use of Chlorine Dioxide, as well as bioenergetic therapies. The group's mission is to awaken the consciousness of all people and achieve the Physical, Emotional, Mental and Spiritual well-being of the human being.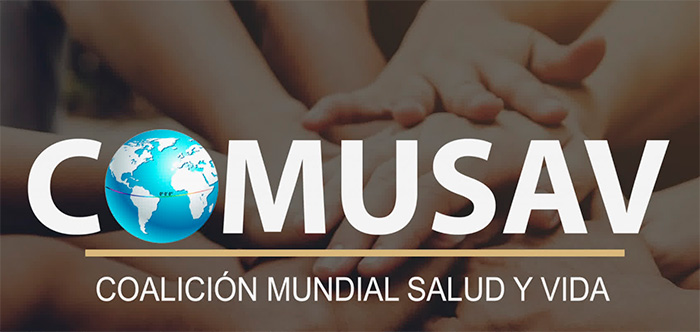 COMUSAV - EcoActivo
Since its foundation, COMUSAV has carried out several activities worldwide to promote the use of CDS to treat Covid-19.
Comusav and Andreas Kalcker refer to Jim Humble, one of chlorine dioxide's biggest advocates. He has repeatedly claimed since 1990 that MMS cures malaria, cancer, HIV, sclerosis, autism and other conditions.
Since its use was promoted by Jim Humble in 2006 in his book "The Miracle Mineral Solution of the 21st Century", MMS has been attributed with properties bordering on the miraculous and is considered to be a gift from God. It is well-known in Spanish-speaking countries, but its popularity is not as great in English-speaking countries.
Many years ago, alleged experts from the United Nations promoted MMS under the term "Universal Antidote".
MMS is now used to cure Covid 19 in several Latin American nations such as Ecuador and Bolivia. Andreas Kalcker explains that it has amazing results when used as a theraputical. It increases oxygen in the blood and eliminated pathogens. It does not matter if it's a virus, fungus or microbe because it eliminates them by oxidation. It's like electric shock/burning, it basically electrically activates every cell.
"I have been using this substance for several years with extraordinary results and I can assure you that chlorine dioxide is the most important discovery in the last hundred years in the field of medicine."

"Our discoveries do not seek to confront or harm the pharmaceutical industry, what we are looking for is that we work together to provide a quality of life for humanity."
He is Member of the association "Stop World Control" where he explains that cures for covid are hidden because they want to vaccinate all human beings.
Stop World Control - What is going on in our world?
Many of humanities leading voices in the fields of science, healthcare, law and journalism are speaking out.
He is the author of many books, including "Forbidden Health: Incurable Was Yesterday":
Forbidden Health
Some of you will wonder how can health be forbidden, because initially it does not make any sense at all. This book is the result of many years of data collecting about allegedly incurable diseases by the bio-physicist Andreas Kalcker, who dares to speak the truth, offering solutions where there were none until now.
He is accused of being a charlatan and fraudulent, of telling numerous fallacies and lies and of having bought his degrees and diplomas.
He decided to return the degree to the university, a decision that is made public on its website:
"I am tired of this recognition being used to defame me again and again and I have decided to return my doctorate to the University. So I am no longer officially a doctor (…) and frankly, I don't care."
Now he works as an employee in a research centre in Switzerland "Liechtenstein Association for Science and Health" where new, more advanced, as yet unknown forms of intravenous use of oxidants for therapeutic use are being investigated and where the goal is to obtain international authorisations as legal medicines.
More information about Andreas Kalcker and his research about CDS and Coronavirus:
Chlorine Dioxide against Coronavirus - Andreas Kalcker.pdf
A revolutionary, simple and effective approach.
Some of his most important videos in English:
https://odysee.com/@Kalcker:7/FORBIDDEN-HEALTH_–ANDREAS-KALCKER:c
https://odysee.com/@testimonios-CDS:5/Interview-Andreas-Kalcker-English-in-Laboratory:4
https://www.bitchute.com/video/CjyUr4xcrA8/
https://odysee.com/@Kalcker:7/Effekte-Von-Clo2-Im-Blut–1:c