A new report shows that attacks on free speech rights during the COVID-19 pandemic have had a devastating impact on people's ability to access accurate information to help them address the global health crisis.
Silenced Speech and Misinformation
"Free Speech Threatened During Covid 19 Pandemic" shows that the attacks on free speech rights during the Covid 19 pandemic were unprecedented. These attacks have dangerous public health implications.
Indeed, government-led attacks on free expression, combined with the spread of misinformation*, have continued to sweep the world during the health crisis.
Governments and agencies that have relied on censorship and punishment during the crisis have reduced the quality of information reaching citizens. The pandemic has led to a dangerous situation in which governments are applying new laws to gag independent journalism. They attack people who criticize the government's response to the Covid 19 pandemic, or people who are simply trying to learn more about it.
Governments have launched an unprecedented offensive against freedom of expression in the wake of the pandemic (…). Communications media are being targeted, social networks censored, some media closed. This is having a serious impact on the ability of citizens to access vital information about how to respond to Covid-19. – Rajat Khosla, director of research, advocacy and policy at Amnesty International
Critical Voices Are Silenced in Many Countries
In the midst of the pandemic, journalists and medical personnel have been silenced and imprisoned. As a result, people have been denied access to information about Covid-19, including how to protect themselves and their communities.
It is estimated that approximately five million people died as a result of the Covid-19 pandemic. Lack of information was likely a major factor.
Focus on China
In China, the government is trying to control free speech rights: Health professionals, trade journalists and citizens who tried to sound the alarm about the health situation as early as December 2019 have been targeted. The reason? For trying to report on the spread of a then-unknown disease.
As of February 2020, 5,511 criminal investigations have been launched against individuals who published information about the Covid 19 epidemic for "intentional fabrication and dissemination of false and harmful information."
Our report also highlights the disturbing case of citizen journalist Zhang Zhan. Determined to peacefully exercise her right to freedom of expression and report on the Covid-19 epidemic, she traveled to Wuhan in February 2020. After being reported missing in the area in May 2020, she was detained by police and charged with "inciting conflict and disturbing public order."
Today, Zhang Zhan has been sentenced to four years in prison. Læs her.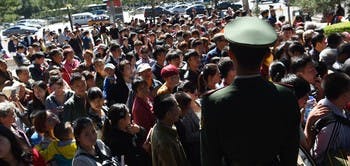 The human rights situation in China
The year was marked by a severe crackdown on the activities of human rights defenders and those considered dissident, as well as the systematic oppression of ethnic minorities...
Focus on Russia
In April 2020, Russia expanded existing legislation against "false information." This law provides criminal sanctions for "knowingly disseminating false information to the public" in an emergency situation. While these changes were submitted as part of the Russian authorities' response to the Covid 19 pandemic, these measures will remain in effect after the pandemic.
Many other countries, such as Tanzania and Nicaragua, have enacted repressive laws under the pretext of the pandemic, restricting freedom of expression and silencing critics.
It is clear that restrictions on freedom of expression are not just exceptional, temporary measures to deal with a one-time crisis. They are part of the human rights offensive that has been underway around the world in recent years, as governments have found a new pretext to step up their attacks on civil society. – Rajat Khosla, Director of Research, Advocacy and Policy at Amnesty International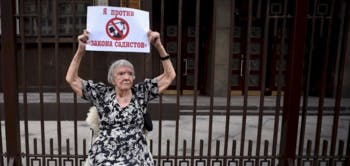 The human rights situation in Russia
The COVID-19 pandemic highlighted the chronic under-resourcing of the health system. The authorities used the health crisis as an opportunity to...
The Responsibility of the Digital Giants
Our report highlights the role of digital giants in the rapid spread of misinformation* about the Covid 19 pandemic. These platforms, designed to distribute content that attracts users' attention, are not doing their due diligence to prevent the spread of false or misleading information.
The flood of misinformation poses a serious threat to freedom of expression and health.
It is increasingly difficult for citizens to form informed opinions and make informed decisions about their health based on the best available science.
It is important to have a variety of sources, to question the available information, and to discuss it.
Restrictions on Freedom of Expression Must Not Become the Norm
Governments urgently need to lift these restrictions and ensure the free flow of information to protect people's right to health.
Governments and the companies that run social networks must ensure that people have free access to accurate, evidence-based information in a timely manner – a critical step in reducing vaccine hesitancy caused by misinformation. – Rajat Khosla, Director of Research, Advocacy and Policy at Amnesty International
We call on states to stop using the pandemic as a pretext to prevent the dissemination of independent information.
We also call on them to lift all unjustified restrictions on freedom of expression and to provide credible, reliable and accessible information to keep the public fully informed about the pandemic.
Censorship is not the answer to misinformation; free and independent media and a strong civil society are.
In parallel, states must work to change the destructive business model of tech giants, which is now one of the main causes of the spread of misinformation and disinformation online.
The digital giants must stop burying their heads in the sand and take action to curb the viral spread of misinformation.
They must ensure that their business models do not jeopardize human rights.
*MISINFORMATION AND DISINFORMATION
Misinformation" is a term generally used to describe the dissemination of false or inaccurate information without malicious intent. The term "misinformation" is generally used to describe the deliberate dissemination of false or inaccurate information with the intent to mislead or deceive. For the sake of brevity and simplicity, the term "misinformation" is used in this report to refer to both misinformation and disinformation, except where it is useful to specify that it refers specifically to disinformation.